Capitol Hill, Washington DC, USA—
On July 28, 2015, the largest Congressional and community gathering in Sikh American history was held at SALDEF's SikhLEAD second annual Langar in Capitol Hill. Co-hosted by SALDEF's SikhLEAD 2015 class and Congressman Mike Honda's office, over 350 congressional staff members, Sikh community members, and non-Sikhs from a variety of professional paths shared Langar, became connected to Sikh values and the Sikh community, and heard why Congressional leaders are dedicated to creating a more fostering environment for Sikh Americans.
WATCH: Congressional Leadership and Community Learn About Langar and their Sikh Neighbors
The event was co-hosted by Congressman Mike Honda (D-CA 17). Jasjit Singh, Executive Director, SALDEF, delivered the opening address, and closing remarks were given by the 2015 SikhLEAD Internship Class.
Featured speakers included:
| | | |
| --- | --- | --- |
| Rep. Ami Bera (D-CA 7) | Rep. Hank Johnson (D-GA 4) | Rep. Ted Poe (R-TX 2) |
| Rep. Sanford Bishop Jr. (D-GA 2) | Rep. Doug LaMalfa (R-CA 2)  | Rep. Paul Ryan (R-WI 1) |
| Rep. Judy Chu (D-CA 27) | Rep. Tom McClintock (R-CA 4) | Rep. Brad Sherman (D-CA 30) |
| Rep. James Clyburn (D-SC 6) | Rep. Jim McDermott (D-WA 7) | Rep. Mark Takano (D-CA 41 |
| Rep. Joseph Crowley (D-NY 14) | Rep. Jerry McNerney (D-CA-9) | Rep. Joe Wilson (R-SC 2) |
| Rep. John Garamendi (D-CA 3) | Rep. Grace Meng (D-NY 6) | Chair Jenny Yang of the EEOC |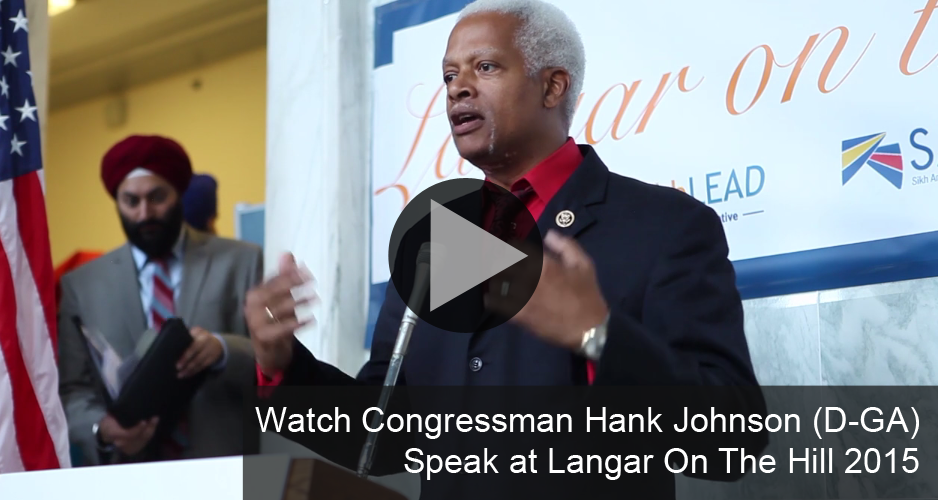 Video of Congressman Hank Johnson's Address [More Videos to Come]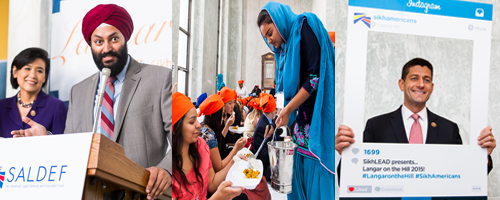 VIEW THE PHOTOS: LANGAR ON CAPITOL HILL
Our sincere gratitude to the following Gurdwara sangats who supported SALDEF and the SikhLEAD Internship Class of 2015 with the funds needed to hold this historic event. SALDEF and SikhLEAD thank: Sikh Center of Houston (Houston, TX); Sikh National Center (Houston, TX); Tri-State Sikh Cultural Society (Monroeville, PA); Guru Nanak Sikh Temple of Utah (West Jordan, UT); Stockton Gurdwara (Stockton, CA); Sikh Cultural and Educational Society (Williamsville, NY); Niagara Frontier Sikh Society (Clarence, NY); Sikh Foundation of Virginia (Fairfax Station, VA); Guru Gobind Singh Foundation (Rockville, MD); Sikh Gurdwara DC (Washington, DC); and Guru Nanak Foundation of America (Silver Spring, MD). We also thank Bombay Cafe of Fairfax, Virginia and the countless volunteers from the local sangat who supported the event.