Anup Singh, ex-SGPC(Sikh Parliament) prachark (preacher) stabbed at Fresno airport. His appearance as a Sikh was a key factor in making him a a target.
UNITED SIKHS is working with the authorities to make sure that justice prevails
The assailant has been arrested and not charged with hatecrime
FRESNO, CA—A 56 year old Sikh preacher, S. Anup Singh  was attacked by a 26-year-old white man named Mitchell Dufur at the Fresno airport earlier this week.  This terrifying incident that has left the Sikh community in a shock.  According to the Fresno Police Department, a 56-year old Sikh man from India was seated near the Transportation Security Administration terminal waiting to board his plane when he was stabbed. There was no communication between the victim and the assailant. The Sikh traveller suffered a minor cut to his upper torso, and was treated at the airport prior to resuming his journey back to UK.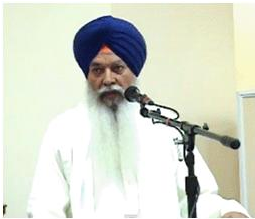 UNITED SIKHS team spoke to a Fresno resident Bakhtawar Singh, an eyewitness to this fearsome incident who had gone to drop the victim, Anup Singh. Bhaktawar Singh said, "This young man came forward and lunged at Bhai Saheb, who donned an open flowing beard and hit him with a knife just below the collar bone.  Few minutes before the incident, I saw him going towards his bag and taking something out but I didn't know that he was going to stab. I don't sport a full flowing beard and I think that, I was spared because I didn't look like one of the images being flashed on Television screens today. Blood was oozing out from Anup Singh's wound and the and the assailant ran towards the exit. I think the reason that I was spared is because I don't sport a full flowing beard and don't look like one of the images that are flashed on Television screens today. "
(Inset:Anup Singh, Ex-Prachark (preacher)
SGPC-Parliment of the Sikhs)
Meanwhile, the medical doctors arrived and Anup Singh Ji was bandaged and he chose to travel to his country, the United Kingdom. According to sources, the assailant has not admitted to any charges and motives for this act as yet and has been charged with minor clauses – 1. Carrying weapon at the airport and  2. Assault with weapon. This will allow him to elude from any major punishment for this very heinous crime.
UNITED SIKHS has contacted the local authorities and also elevated this incident at the federal level and will work with them to make sure that justice prevails. Kashmir Singh, Director of UNITED SIKHS, said, "We are in touch with  Anup Singh and understand that he was in a state of shock and thanks god who protected him from this not taking a turn that would have cost him his life."
In an interview with Kashmir Singh, Anup Singh also said, "I saw hatred in the assailant's eyes. I urge all Sikhs while travelling to or out of the United States to be careful and alert as this incident has literally shocked all of us. Clearly one can see as to why I was the prime target and no one else around me and it is primarily because of my appearance.  Donning our Kakkars ( Sikh articles of faith) is our birth right. Its a shame that even today within the United States hatred and prejudice are still prevalent and their casualties are innocent people"
Earlier this year, two elderly Sikh men were gunned down in suburban Sacramento on March 4, Surinder Singh, 65, and Gurtej Atwal, 78 when they were walking through a neighbourhood in Elk Grove. Police are investigating the fatal shooting as a possible hate crime potentially linked to the men's appearance. Both men wore turbans and long beards.
Th incidenct has once again highlighted the issue of Sikhs being repeatedly targeted for their appearance and dress code. A lot of these incidents also go unreported and that does not help the cause either. UNITED SIKHS advises Sikhs and all other minorities who suffer racial profiling and hate crimes not to treat such incidents lightly. Victims of hate crimes and racial profiling are advised to contact UNITED SIKHS to advocate on their behalf. You may report a hate/bias crime/incident to UNITED SIKHS at http://unitedsikhs.org/hatecrime/